Wireox would like to announce its opening of our new Division for Wearable Technologies. The new Wearable Technology team will focus on the latest connected consumer technology products and possibilities. The team's first project has been on our own camera sunglasses "The Fast Action Sports Cam" and the car dash camera "The Action Dash Cam".
The wearable technology industry is growing quickly with figures indicating that one in ten consumers want a wearable tech device and volumes shipped reaching close to half a billion by 2018.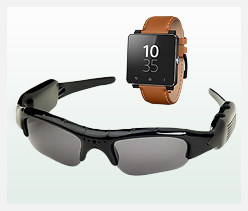 New Job Opening in Wireox's Wearable Tech Division:
Wireox LLC, designer of the MVolt brand, is searching engineers who have interest and some project experience in or towards next generation technologies where Electronics, Bio and Computer science all work together.
Responsibilities will include:
Working to design and create collateral for new "wearable" platforms and devices.
Using sensors design and create interface with Human body via wearable devices and support connectivity to different platforms via software technologies using wireless such as Bluetooth protocols.
Bring in new design ideas, suggestions recommendation based on electronics, bio and computer knowledge to upgrade current products in the production or market.
System integration and debug (Including SoftWare, BioMedical and HardWare)
Qualifications:
Possess a Master of Science degree in Electronics Engineering and have relative human body integration experience with machines OR Master of Science degree in Biomedical Engineering with no experience with exposure to human body integration.
Human body integration with machines via sensors and other technologies.
Understanding with latest software trends and technologies.
Understanding with Android and Apps.
Understanding with iOS all versions.
Working knowledge of PLC programming languages as C++ and Java app.
Work experience with electronic device integration with sensors and human body and machine control via feedback through body.
Understand the manufacturing cycle of the product.
Can communicate and work with vendors, product development life cycle.
No relative industry experience required.
Must possess new ideas and have basic sketch of working platform on those.
Must have one presentation of a live project.
Disciplined and result oriented, ability to HEAVILY multitask
Job Category: Engineering
Primary Location: Ferndale, Michigan USA
Full/Part Time: Full Time
Why Wireox: Since 2007 Wireox LLC has been growing in electronics and wireless accessories industry. With the brands like Mvolt, Dash Cam, Fast Action Cam, and others Wireox is known as leader in 2nd tier top level companies related to design, distribution of small electronics products and accessories. As past 10 years was about touch screen products so that next 10 years will be wearable technologies that will be integrated to human body. Wireox has planned to invest and up bring these products and technologies in to its product line to be the leader in its class.